CNN has learned a second American may have been killed while fighting for ISIS. According to a coalition of opposition groups in Syria, the second American died in the same shootout where Douglas McAuthur McCain was killed this past weekend.
McCain's relatives, meanwhile, say they are still in shock over the 33-year-old's death.
The question - why are Americans leaving for jihad?
Some 100 other Americans are believed to have either fought in Syria since 2011 or been arrested before they could get there.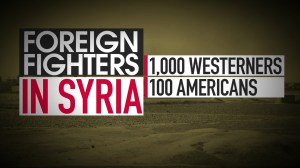 So what could cause someone to turn against their own country, leave their family and friends behind to become a jihadist on the battlefield?
OutFront, Ed Husain – was a teenage Muslim growing up in England when he became radicalized in the early 1990's. He is now the senior fellow at the council on foreign relations